---
And the 2018 winners are…
$1,000 Visa gift card: Deb Ericsson
$100 Visa gift card: Deb Erie
$100 Visa gift card: Jana Lowenstein
$100 Visa gift card: Steve McMichael
$100 Visa gift card: Sheri Stover
$100 Visa gift card: Sheri Stover
Assortment of people treats: Marcia Boler
Dog food and dog treats: Geralyn Carlson
---
Goldzilla promises many rewarding moments, including the bonus of supporting a great cause when you buy raffle tickets—just $1 per ticket!
$1,000 Visa Gift Card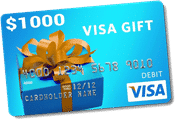 One (1) winner will be drawn
$100 Visa Gift Cards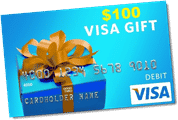 Five (5) winners will be drawn
Raffle Tickets will be available for purchase at Goldzilla until 1:00 PM. You may also purchase raffle tickets from a RAGOM volunteer before the event. If you do not know a volunteer, email goldzilla@ragom.org. You do not need to be present to win a raffle prize; we'll notify you if your ticket is drawn.
Please note the design of the cards issued may differ from the cards shown above.